Building the city ─ and fortunes

By Angela Bianchi


Strong arms, hands of steel and courage to undertake the
most miserable job was a trademark of Italian labourers who came to Canada for a better life.

The first crop of young Italian workers came in the 1920s and 1930s and found work putting down railroad track and digging tunnels in and around Toronto.

Some men worked long back-breaking hours carrying bricks on their shoulders, hauling supplies with their bare hands and risking their lives in unsafe tunnels.

Besides the physical work, they suffered having their cheques skimmed by bosses or waiting weeks before being paid less than what had been promised.

To keep their jobs, many Italian men paid kickbacks to their foremen, some of whom were Italians themselves.

The early years of struggle and exploitation convinced some to return to Italy with the money they'd sved, but for those men who endures the discrimination and the Depression, it wasn't long before they'd travelled to road from labourer to journeyman to sub-contractors to property developer.

Virginio Tam, one of the many successful bricklayers to come from the impoverished Friuli area in northern Italy in the mid '20s and early '30s, said if you worked hard and were willing to risk everything you had a chance to make it.

"I was lucky because the first year I came (1927), I worked for may brother-in-law laying bricks for 55 cents an hour, but the next year I went to work for a French man for 80 cents an hour. Then in 1932 I went on my own. I charged $4.50 to lay down 1,000 bricks," Tam says.

The same year Tam built his first home on Blackthorn Avenue and sold it for $5,000, making a $1,000 profit.

A 33-year resident in the affluent Bridle Path, 89-year old Tam says he made his money in the 1940s building two-storey houses in Forest Hill for $13,000 and apartments in the '50s.

Another pioneer, Paolo Bertoia build his success in plastering and winning contracts to work on St. Michael's Cathedral, the Royal Ontario Museum, Union Station and the Ontario Parliament buildings. During the Depression, Bertoia would have plastered a complete bungalow for $35.

Bruno Bratti started off the family construction empire by manufacturing and installing furnaces in the mid '30s.

Gazzola Paving Limited would not be the multi-million business it is today if not for the hard work and determination of the late Virginio Gazzola, who started a small landscaping company in 1942 in Toronto.

Giacomo Corvese, another early immigrant, built his reputation on quality woodwork and home building in North York and eventually became a partner in the Oakwood Lumber and Millwork operation.

Another prosperous Italian immigrant of the 1920s was Amos Venchiarutti, known for his home building in the Kingsway area.

"My father came over on his honeymoon and stayed," says his son, architect Leo Venchiarutti.

"He started off as a bricklayer before he got his own gang of workers. He ran his business like a cottage industry from our home," Venchiarutti says. "He'd build eight to 10 homes a year and he'd make a good living from that."

But the really big Italian names in construction in the 1930s,'40s and '50s were Fidani and Fransechini, equal in importance and wealth as their '90s Italian counterparts, the DelZottos, Muzzo and DeGasperis.

Rinaldo Fidani formed Fidani Bros. Construction with his brother in 1922 two years after he immigrated from Central Italy. Quiet millionaires, the Fidanis controlled a crew of 175 men and by the 1930s had constructed 70 per cent of all the apartment buildings going up in Toronto. Later they turned their attention to commercial and institutional construction, building St. Mary of the Angels Church on Dufferin St. and St. Vladimirs Greek Orthodox Church.


Without dispute, the master of construction was James Franceschini, a poor 15-year-old immigrant from Abruzzo, who came looking for work in Toronto in 1905. He eventually became the first Italian-born millionaire.


Like other immigrants, Franceschini started out earning some money by wielding the pick and shovel, and later by digging basements and pouring cement. In 1918, he formed Dufferin Construction. He turned to home building in the mid 1920s, bought some necessary construction equipment and began paving a bright future for himself with the help of some very influential Anglo-Saxon friends.


Writes Kenneth Bagnell in his book, Canadese, a Portrait of the Italian Canadians, Franceschini was worth $300,000 by the mid 1920s, continuously underbidding to win lucrative government highway projects.

By 1939, he had become Canada's largest road contractor, who went on to build airports and warships.

Between 1928 and 1940 Franceschini had won more than $12 million in Ontario government jobs.

Despite his contribution to help Canada's war effort, Franceschini was rounded up along with other Italians and sent to interment camps in 1940. He was released one year later to find most of his equipment had been sold at fire sale prices and his business properties partially sold off.

Franceschini was one of the few pioneers to strike it rich during the Depression and war years, the other pioneers struck gold during the post-war years.

The new wave of Italian construction workers came in the '50s and also faced exploitation, often being cheated of vacation pay and forced to work under unsafe conditions.

Ignorant of their individual rights and afraind to complain, these men, arriving primarily from southern Italy, were desperate to work and willing to take on any gruelling and dangerous job. There were many Italians who died on the job as a result of unsafe working conditions.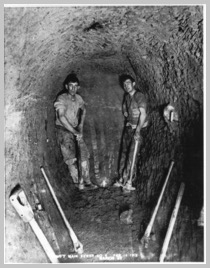 The most tragic deaths took place at Hogg's Hollow on March 17, 1960, when five unskilled Italian workers lost their lives working in an officially recognized unsafe tunnel.


Led to believe everything was fine, the five works didn't ask questions before they crouched to work in a tight shaft that hours later caught fire.

Out of this tragedy grew the fight for new and tighter worker safety legislation. For years Italians and other construction workers had worked without hard hats, safety boots, eye protection or fire extinguishers.



John Stefanini, now a business manager at Local 183 of the International Laborers Union, worked hard in the '60s to unionize workers and fight for worker's rights. He got three months in jail for his efforts.

At the same time these battles were being fought to improve working conditions for construction workers ─ 80 per cent of them Italian in the '60s ─ a new group of post-war Italians were coming on the scene as contractors and developers.

Among them was Domenic Faga, who years later was the first to introduce the Hambro Forming System in highrise development. Three years after immigrating in 1952 and with a borrowed $2,000, Faga began his own business as a sub-contractor employing 15 workers. In his first year he made $12,000.

"I didn't want to get into construction, but I saw it as a potential gold mine," says Faga, whose first major contract was to build the 17-storey University of Toronto residence at St. George and Bloor Streets.

A lot of fly-by-night, dishonest contractors, some Italian, made a quick and dirty buck during the construction boom of the '50s and '60s. They preyed off the innocent immigrant construction worker, but there were also Italians who worked hard and honestly to reach success.

Domenic Cruppi, who came to Toronto in 1949 climbed his way out of the labour pool by taking on small paving and excavation jobs during the day and putting up pins an bowling alley at night. In 1957 he learned to lay asphalt and by the '70s his company, Cruppi and Sons was winning major road repair contracts and they were well on their way to becoming millionaires.

By the '70s Italian names were posted on almost every major construction site: the big names of course being, Tridel Construction, Condrain Construction, Green Park Homes, Orlando Corporation and Gazzola Paving Ltd.

The thousands of common labourers who spent the past 40 years sweating out a living digging tunnels, breaking concrete and laying bricks, have now reached retirement age and have handed over their skills and knowledge to the Portuguese. Today, only 25 per cent of the men working in construction are Italian.

Many of the Italian construction pioneers have passed on their successful business to their children, preferring to spend their days playing golf together at the Bayview Country Club and holidaying in Boca Raton, Florida.

But some construction fortunes, that took a poor immigrant 60 years to build, have been lost through the years because of poor management and family disinterest, holding true to an old Italian proverb: 'The first generation builds it, the second keeps it, the third one eats it.'