ZIA AND FRIENDS (2013)

This cinéma vérité documentary, filmed at a Toronto long-term care facility, allows the camera to capture daily scenes from the lives of seniors with dementia as they interact with caregivers, friends and family ─ but mostly with each other.

I saw the first signs of dementia when my aunt was in her late eighties. I'd visit her weekly to help with groceries and laundry and I'd find drawers full of tissue in her bedroom, money stashed under her mattress, and as the disease progressed, uneaten meals wasting in her closet.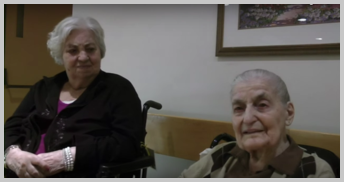 She refused to move in with me and I couldn't force her out of her home, but eventually her confusion and paranoia took a toll on her health, and safety became a concern. My only choice was to institutionalize her.


The move from her tiny bungalow in mid-town Toronto to a private room in a long-term care facility seven blocks away exposed this 90-year old Italian immigrant woman to a rigid lifestyle, new food, new friends, pants and nail polish.

The dementia, and the anti-psychotic drugs changed her personality and gone were the religious filters that had muted her singing voice and sense of humour.


I knew my aunt, Domenica Bianchi, and many of the other residents didn't have many more years to live so, with the permission of the nursing home, I began to film them a few hours a day for two months in 2011.

The camera captured the confusion brought on by dementia but it also shows
individuals full of thoughts, laughter and wisdom.


FESTIVALS

Zia and Friends, premiered at the
Italian Contemporary Film Festival
in July 2013, at the Bell Lightbox Theatre in Toronto.

MEDIA

The documentary was favourably reviewed by media, and following its screening, The Toronto Star ran a front page article on Domenica Bianchi and her participation in the Alzheimer Society's, IPod Memory Project. Until her death in April 3, 2014, she became the unofficial poster girl for the project.

June 8, 2013 -
Documentary Shows the Positives of Growing Older.
BRAMPTON GUARDIAN

June 8, 2013 -
Documentary Shows the Positives of Growing Older.
North York Mirror.

July 21, 2013 -
Alzheimer Society's iPod Project offers music to soothe troubled souls.
Toronto Star.

July 21, 2013 -
Hope in an mp3 player: iPods for Alzheimer's.
Metro News.

July 30, 2014 –
The memory key: how music is unlocking the minds of people with Alzheimer's.
CBC Music Magazine.

External
Link

http://www.imdb.com/title/tt3064288/