Coming of age in the Italian countryside
Traditional life thrives in Villavallelonga


By Angela Bianchi


VILLAVALLELONGA, Italy— When I lived in Rome in my 20s, I would often escape to Villavallelonga on weekends in search of serenity, fresh mountain air and hearty peasant food.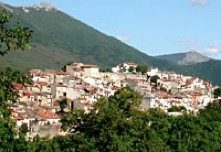 At 1,005 metres above sea level, the quaint, medieval village of 1,000 people provided me with both nurture and nature. Located 100 kilometres east of Rome, la Villa, as it's fondly referred to, is part of a protected nature reserve known to a few Roman tourists and wildlife enthusiasts, including Pope John Paul II, who often went there to ski and meditate. Villa is truly one of the few places in Italy where the traditional, conservative way of life continues to prosper alongside cellphone culture.

For children of immigrants from Villa, like me, a summer trip to the isolated Abruzzese village was our "coming of age" journey. The first trip, and every trip afterward, included the requisite visit with aging relatives, the long walk to the cemetery, collecting cold surging water from "Il tricaglio" (high in iron content) and hiking the foothills to see unique fauna and flora.

The ideal time to visit Villa is during the summer, when Romans visit their mountain retreat and former residents return to celebrate the holidays of St. Anthony in mid-June and the feasts of St. Rocco, St. Nicola and St. Leucio (their patron saint) in early September — three days of open-air concerts, spectacular fireworks and processions.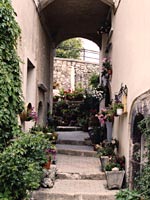 On the second Sunday of August, villagers and tourists make the yearly trek to "L'aceretta" — a valley at the base of the Apennines and a favourite refuge of John Paul II's — to mark "La sagra della pecora," the feast of the sheep. Traditionally, mass is celebrated at noon and the priest blesses the sacrificial meat, usually freshly killed sheep or lamb, which is barbecued over individual bonfires.


Picnickers spend the whole day nibbling the tender meat, dancing, horseback riding, singing folk songs and consuming copious amounts of strong, red wine. Those who don't wish to cook can buy mouth-watering, juicy porchetta or sausages from the food stands; a makeshift bar is set up high in the valley to keep the revellers amply supplied. The day ends with a raffle draw; the top prize is a live sheep.

My father used to say there are three reasons to visit Villa: to breathe in the thin mountain air, which rejuvenates a tired body; to drink the cold spring water to restore our health, and to dine on the many varieties of game. For the latter, there's only one place to go — P'zzola's, on Via Tratturo. It's open all year-round and the menu is quite affordable. The average meat dish costs 8 euros (about $11 Cdn.) Owner Ricardo Boschi, a transplanted Tuscan, doesn't believe in marinating his meats. He simply cooks with plenty of Abruzzese red wine and appropriate seasonings.


"If the meat is fresh, you don't have to marinate," says Boschi, who will cook the meal according to taste, whether it be frogs, deer, wild boar, quails, rabbit, red deer, roe deer or papardelle pasta with duck.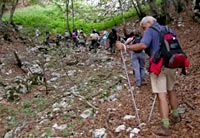 I tend to gain weight when I go to Villa, so I plan for two days of gluttonous eating, then stick to pasta with beans or plain red-sauce spaghetti sprinkled with a hint of locally produced pecorino cheese, for the rest of my stay.


Of course, walking up and down Villa's three main roads helps eliminate some of the calories, but what's really needed for a completely restorative visit to Villa, is a four-hour hike of Monte Marcolano, organized by the Parco Nazionale del Abruzzo. There are four other guided trails developed by the park — Monte Breccioso, Monte Serrone, Monte Cornacchia and Alta Via Del Parco — but are longer and require more stamina.

The Marcolano provides splendid sights and an enjoyable walk to the summit (1,940 metres), which offers a magnificent view of the park itself.

If you're lucky, you'll see Abruzzo's famous brown Marsican bear, royal eagles, rock partridges, lanner falcons, wolves, roe deer, stags, snow finches and the beautiful chamois.

At first, the people may appear reserved and distant, but they are a shy people — shaped by religiosity and the dark years of the brigandage. But when they loosen up, generally during the holiday period or after a glass or two of local brew, they become quite boisterous and entertaining. You'd be wise to learn a few Italian phrases in order to converse with some of the older townsfolk, who are as colourful to look at as listen to.

Don't be surprised if they stop you to ask, "Whose daughter/son are you?"

Once they realize you have no relatives in Villa, they will simply smile and bid you a good visit.