THE PLASTIC KINGDOM
Royal Plastics' Vic De Zen sets his sights on a worldwide empire of do-it-yourself plastic houses.


By Angela Bianchi


Plastic extrusion is not a pretty business. Hot, wet plastic oozing out of machines in raw form is about as visually appealing as meat going through a grinder. Extrusion is, however, a highly precise art that demands acute skills and expensive machinery. It involves patience, precision and luck, because every single piece must be an exact clone of its predecessor. So there's a fine line separating a valuable strip of extruded plastic goop. Moreover, we have come to depend on accurately extruded plastic to form our windows, our doors and countless other building items we take for granted. That's why, among plastics manufacturers, extrusion is known as "the Black Art."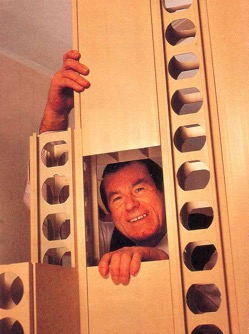 From a nondescript industrial complex north of Toronto, Victor De Zen, 52, oversees a privately owned, billion-dollar empire that he built single-handedly. De Zen, who arrived in Canada from Italy in 1962, is now North America's largest extruder of products like vertical blinds and window forms. De Zen ─ the founder of the Royal Plastics Group and employer of about 3,500 ─ is a master of the Black Art. These days he is attempting to take the skill that has already made him so much money and sell complete, do-it-yourself plastic houses around the globe.


The demand for inexpensive homes appears virtually limitless. "If we build five new plants for housing around the world every year for the rest of our lives, we can't supply more than 2% of the global demand," says John Garbin, general manger of Royal Buildings System Ltd., Royal's housing arm." Mexico alone has demand for 12 million units."

There's a subdivision just outside La Plata, Argentina, a university town 60 km from Buenos Aires, where a huge multicoloured street sign welcomes visitors to Royal Village, a newly built government-subsidized housing project. Behind the sign stands a row of 10 identical, plastic 650-sq. ft. single units that took a local team of unskilled labourers one month to erect. These two-bedroom homes cost less than $13,500 apiece because they're made of De Zen's polyvinyl chloride (PVC) plastic panels that assemble much like a Lego set. The low cost and ease of assembly were two reasons the Royal Housing System was voted Best in Show at the 1993 Design Effectiveness Awards sponsored by the Group for Design in Business and The Financial Post Magazine

Since 1992, Royal has signed housing agreements with partners in Argentina, Colombia and Spain, with prospects in 10 other countries, including Japan, Malaysia, Guadeloupe and the Philippines. By the end of last year, Royal had shipped about 700 homes. Spain has a standing order for 2,500 units, Argentina's in for 5,000 units and 100 have been delivered to Hainan Island, China, to be set up as a resort motel.

The concept of cheap, durable plastic housing has been around since the late 1950s when Monsanto Chemical designed a house for a trade show to showcase the possibilities of plastic. De Zen estimates he spent 25 years of research and $50 million perfecting his plastic house. But over that same quarter-century, the mysterious Vic De Zen has also built himself a manufacturing empire of a size that rivals Frank Stronach's Magna International.

Royal's factories and warehouse sprawl over 50 hectares in Vaughan, Ontario, just north of Toronto. The suburban avenues and streets lined with Royal's brick-faced factories are a hypnotic procession of royal blue crowns with the Royal name proudly anchored beside. Vinyl Court, aptly christened by Vaughan council "for the man who pays the highest amount of property taxes," says De Zen half jokingly, is home to nine Royal plants and De Zen's own banquet hall, La Pineta.

At the centre of the empire is a family man who keeps a small circle of close friends (which, he says, now includes Argentinean President Carlos Menem), and devotes his free time to his wife of 32 years, Angela, and two sons, 30-year old Sergio, an executive at Royal, and youngest son Jimmy, 25, who will eventually join Royal after completing his university studies in San Diego.

A proud Canadian (a 4-m by 5-m maple leaf graces his circular drive) De Zen purposely comes across as a convivial employer, but in truth he's a high-powered, suspicious man with shrewd Venetian business instincts which, when boiled down, translate into: Believe everyone and trust no one.

Paranoid about negative press, De Zen is fanatical about controlling information flow at Royal. He prides himself on taking care of employers and cutting senior managers in with a bonus system, but he is known to unleash his famous temper should an employee speak out of turn.

De Zen was born in August 1941, in a small town 30 minutes from Venice and spent most of his youth working on his father's farm before heading off to Switzerland in the late '50s to work as a tool-and-die maker. De Zen and his new bride Angela arrived on an afternoon flight to Toronto in November 1962, and by early evening he was employed installing TV antennas.

His European tool-and-die industry background landed him a job with a Toronto company, Pillar Plastics Ltd., in 1967. He quit three years later and eventually took over the firm. De Zen says: "He [the owner] promised me a 10 % share in the company and it never happened. I didn't ask him, he offered it. So I said, if I'm going to work hard to help someone else succeed, I might as well work for myself."

De Zen and two Italian coworkers, Domenic D'Amico and Lorenzo De Meneghi, pooled $51,000 in savings and in 1970 started Royal Plastics. Prior to Royal's arrival, the extrusion business was cornered by European companies. De Zen imported $2 million in Italian-made extruders and vacuum-sizers (cooling devices for extruded plastics) and went nose to nose with the offshore plastics people. Because he produced on this side of the Atlantic, he cold beat their prices.

Because he was a master of the Black Art, he could match their quality.

Royal's revenues that year totalled $273,000. But despite being in the black, the trio continued to operate under austere conditions, paying themselves $45 weekly for the next four years. By 1980, Royal had become a $100-million operation, benefitting from the surge in the U.S. housing renovation market and newfound interest in plastic windows, vinyl vertical blinds and vinyl siding.

Today it is a multi-pronged, global network of 80 companies. The original partners are still together and De Zen continues to sit permanently as the helm.

De Zen has built his Royal empire on the corpses of failed competitors. His buyout of Plastibec Ltd., a publicly traded, Quebec-based operation, is a perfect example of his business strategy.

Back in early 1989, Royal's initial offer to buy 35% of Plastibec (then struggling to keep its market share in custom profiles) at $2.20 a share fell off the table. Six months later Royal scooped up 90% of Plastibec stock for less than $1.65 a share; a $15-million deal. It took Royal two years to turn Plastibec around by dumping obsolete machinery and installing De Zen's patented technology.

Royal's buyout schemes and continuous expansion into U.S. markets has made it the top pipe, profile and tubing extruder in North America, according to a 1993 survey in Plastics News of Akron, Ohio, serving 23 primary end-markets, from plumbing to toys.

Royal boasts 40 extrusion companies that stretch across Ontario, Manitoba, Quebec, British Columbia, Florida, Pennsylvania, Washington and Tampico, Mexico. It also holds a substantial amount of equity in a U.K. plastics company and operates a distribution centre in California.

Royal does not make public its revenue breakdown, saying only that the majority of its sales come from extruded products. Other sources of revenue include three door manufacturing plants, a construction company, a chemical plant in Bradford, Ontario and several real estate companies.

A virtually self-sufficient operation, Royal's plastics division (over 50 companies) is serviced by a support group of Royal firms which includes Roadex Transport Ltd.'s fleet of 200 tractor trailers and tankers; Jovien Associates Ltd., a construction company; and Royal Machines MFG, which produces heavy machinery for in-house use only.

"I never sell my technology," says De Zen, who has placed a costly 18-year patent on most of his processes and keeps his Royal's 25,000-sq. ft. R&D centre and tool-and-die manufacturing plant under tight guard and off limits to most visitors.

De Zen claims to have spent $16 million on R&D last year, but he still keeps a close eye on details. Ron Evason, president of the Society of the Plastics Industry of Canada, remembers when De Zen walked up to him holding a competitor's (vinyl) pipe. He put it in Evason's hand and told him to feel how rough it was inside. "Mine are perfectly smooth," De Zen said.

Often paralleled to Magna International's company structure, Royal's vertically integrated system runs similar to a hub-and-spoke operation, with majority interest holder De Zen sitting comfortably in the middle and his minority partners feed the group's needs. The 80 companies each operate autonomously; only finance, purchasing and marketing are centralized," to ensure that they don't unnecessarily compete with one another," explains Royal's senior vice-president, Gwain Cornish.

"A company can only grow so much. Once it makes $25 million in sales you start another company. It serves the customer better," says De Zen.

Citing fond memories of his days at Pillar, De Zen says he has made employment relations at Royal a personal concern. He implemented a bonus system at the senior level in which presidents receive equity in their respective companies based on individual performance.

"Cutting them in makes good business sense. Don't be too greedy, because you'll die fat and every young. It's better to stay skinny," he explains in clipped English. "Most of my employees grow rich with me. Who's good stays, or else in six months they're gone."

The six-month rule, however, does not apply to his plastic house. So convinced is De Zen of his product's viability, he is willing to incur years of short-term losses while it establishes itself in world markets. "Never mind the money," he says. "I've already spent almost half my life on this project, so I don't want to see it fail, even if it means devoting another 10 years to it."

There are critics among the environmentalist group Greenpeace, which considers an all-PVC house a "toxic product that will damage the environment and our health."

Carlo Baldassarra, president of Greenpark Homes, a residential home developer in southern Ontario, believes the plastic housing concept may be perfect for Third World requirements but it's too radical to catch on in urban Canada.

"Personally, I wouldn't live in one," he says, "and I think it would be hard to sell to places like Toronto. It's a brick town, too sophisticated for plastic homes. I could see it as a cottage home though. Maybe it will catch on in 20 years, when wood is no longer affordable."

However, De Zen believes his revolutionary housing concept will eventually gain acceptance in the First World, not only in the form of subsidized housing but as a cheap alternative to traditional real estate, especially for first-time home buyers.

A Royal, custom-made, 1,300 sq. ft. home with three bedrooms and two baths could be built for $24,000. A two-bedroom, 500-sq. ft house goes for $9,7000.

Royal's house, which received Canadian Construction Materials Centre (CCMC) approval in August 1993, has been tested by Trow Consulting Engineers in Brampton, Ontario. It withstood 300 km/hr winds and is claimed by De Zen to be resistance to earthquakes. He also claims its PVC walls are virtually maintenance free, durable and will not support combustion.

"When we were putting up our homes in Argentina last year, a typhoon came through and tore down the homes on the other side of the street but left ours standing," he says proudly.

But the master of the Black Art has his work cut out for him. While there's a global demand for cheap, durable, easily-constructed housing, the idea of a plastic house could be a tough sell to urban North Americans accustomed to brick and wood. Don't look for one in a neighbourhood near you anytime soon.

Tom Torokvei, chairmain of Ipex Inc., Royal's main Canadian competitor in plastic extrusions, says the viability of the plastic house remains to be proven.

Nonetheless, concedes Torokvei, "As long as De Zen's target market is not downtown Canada, he stands a good chance of succeeding."