Canadian National Vimy Memorial Park


By Angela Bianchi


As a young child I listened with fascination to my uncle's stories about his life as a soldier in the Second World War, his time spent in a POW camp in Sheffield, England and about the many wartime friendships he made and never forgot.

I would pass many a rainy day flipping through his photo album, admiring the handsome men in uniform smiling at the camera, one hand on a comrade's shoulder, the other hand holding a cigarette; their names neatly written on the back of each photo.

I occasionally revisit these photos which I inherited when my uncle passed away nine years ago, but unfortunately many of his fascinating (and I'm sure, carefully edited ) stories about the daily tribulations of a soldier's life are beginning to fade from my memory.

I've forgotten his answers to my multitude of questions that only an innocent 10-year-old could permit to ask.

Did you kill anyone? What did you eat? What happened to your uniform? What happened to the people in these pictures? Did you fight every day? How did you get home?

Thirty years and many Hollywood war movies later, I'm still fascinated and eager to learn more about the daily rituals of a soldier's life, so when I found myself in Paris this August, I made a spontaneous decision to visit The Canadian National Vimy Memorial Park.

No one wanted to join me, so I went solo. I checked into escorted tours from Paris, but none was offered, so I made my own arrangements.

I booked my high speed train ticket (52.60 euros return) in Paris. Took the 9:52 a.m. Saturday train from the Paris Nord Station and 50 minutes later I arrived at the beautiful town of Arras, located about 10 kilometres from The Canadian National Vimy Memorial Park.

At the Arras train station I bought a map of the town of Arras and walked to its tourist office, located at Place des Heros. The tourist representative suggested that apart from driving to The Canadian National Vimy Memorial Park, the next best thing would be to hail a cab. And so I did. For 20 euros the cab driver brought me right up to the information kiosk inside the Park.

There were about 20 visitors here this Saturday. Many of them had arrived by car, some on tour buses. There were a few Australians, Austrians and British visitors. As I approached the kiosk, the attendant asked me where I was from? "Canada, I replied. "I knew it," she smiled. "Canadians seem to be the only ones who take a cab here."

I suppose spending 40 euros on cabs (return trip to Arras) is a tad expensive for a lone passenger, but it's a small cost to pay for a once-in-a-life-time journey to the First World War battleground where Canadian soldiers fought valiantly and effectively to capture strategic ground held by the German forces.

When I stepped outside the cab, the weather was unusually warm, the sun was shining, the wind calm and the grounds a rich green, contrasting nicely with the Vimy Monument's towering limestone pylons and statues.

I walked over to the famous Monument, climbed onto the open terrace and viewed the Douai Plain below. What a sight! I circled the majestic Monument which is perfect from every angle and walked a short distance away to view the names of 11,285 Canadians which have been carved on the monument's walls; men killed in France, but whose final resting place in unknown.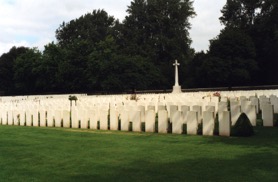 I spent the next two hours exploring various parts of the Park. For those of us who have never seen a shell hole or mine crater, seeing them by the hundreds, bubbling up from the ground, is quite unnerving as are the many signs warning visitors to stay well behind the fenced off "red zone" areas where munitions, from 85 years ago still rest, unexploded. Apart from the occasional grazing sheep, most people do heed the advice. (Why are these sheep grazing in the red zone?)



Before heading down to the Canadian cemeteries, trenches and tunnels (subways), I recommend entering the Interpretive Centre, located a short distance from the monument, for a quick history lesson on The Battle of Vimy Ridge, brought forth via a gallery of photos, posters, maps and a short video describing Canada's accomplishments, contributions and sacrifices on this very spot on April 9, 1917.

Eventually I make my way downhill to Canadian Cemetery No. 2, which is strangely beautiful in its whiteness. I enter the open gate and walk up and down the rows of tombstones. I stop in front of one where a nephew has recently placed a small and delicate wreath of silk red poppies on the grave of his uncle, Private Henry James Kilpatrick, who fought with the Tyneside Scottish, Northumberland Fusiliers.

I leave the cemetery and head for the 1:00 p.m. tour of the damp and deep Grange Tunnel (33 feet down at one point), one of many tunnels dug to bring soldiers safely to the front lines, house ammunition and communication centres safely away from enemy fire.

Those over 5'6" or suffering from claustrophobia may find the tunnel tour a bit of a challenge, but this 40-minute free tour, conducted this day by a young Canadian guide from Ottawa, is educational and well-presented.

As the guide weaves us through the many corridors, she recounts the history behind the building of the Grange Tunnel and verbally reconstructs the various scenes that were carried out by Canadian Corps' in preparation of the capture of Vimy Ridge.

The tour stops off at several points of interest. We are shown the water supply point, the commanding officer's bedroom and office, the officers' mess, the site of an unexploded Allied shell, fully exposed. We are also taken to an empty storeroom where, if you look closely, you can still see the Maple Leaf carved on the wall by a Canadian soldier more than 85 years ago.

This is a nice way to end the tour and a day at the Memorial. As I climb outside the darkness, the silence outside is serene, the sun is piercing and the sky an uninterrupted blue – a complete contrast, our guide reminds us, with the climate that faced our men back on April 9, 1917.

This has been an rewarding, peaceful and memorable day for me, one I hope never to forget.