Thornhill producer in spotlight after film gets critical acclaim


By Angela Bianchi


Dancing in the Dark, one of this year's most talked about films has pulled Thornhill producer Anthony Kramreither out of the shadows and into the spotlight of fame.

Based on Joan Barfoot's book and starring Canada's Martha Henry as a demented housewife, the film won critical acclaim this year at the Cannes and New York Film Festivals and played to sold-out audiences at Toronto's Festival of Festivals.

For Kramreither, 60, public acclaim has been a long time coming.

"After 30 years of working in this business I've gained the respect of my peers," he says.

"I didn't think it would have such an impact when we started filming," Kramreither says. "The credit goes to director Leon Marr for choosing Henry to play the lead role.

"He was convinced she was the only actress to play the part….he was right."

Nicknamed the king of the low-budget film, Kramreither has a reputation as a producer who gets the job done, sometimes under budget. He boasts, "All my movies make money…That's why I'm still in business."

Lining up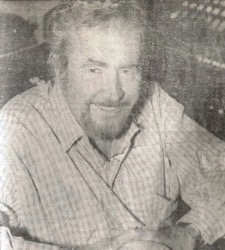 And business has never been better for Kramreither. As often happens after a huge success, people are lining up at Kramreither's door for work, but the veteran producer is cautious about who he lets in.


Dancing In The Dark cost $700,000 to make and is expected to make a hefty profit.

"Right now I'm overrun by scripts. I could easily make lots of money but I could easily lose all I've worked for, too. I have to be careful of what I choose to produce."



As a struggling actor in Vienna, Kramreither worked on the railway to support his family while acting on the side. Hoping to improve his lot, Kramreither left post-war Europe and headed to Canada in 1954.

"I didn't know a word of English. I had a few dollars in my pocket, left my wife behind temporarily and headed for Toronto.

"The only words I knew were 'Toronto' and 'okay.' When I passed through customs they asked my where I was going and I replied: "Toronto, okay." And I got in," Kramreither says with a laugh.

To his dismay, Kramreither's life in Canada wasn't any more promising. He took a job to support his family and acted in locale theatre whenever he could.

"Actors think they have it tough now but the first five years in Toronto were the worst. No waiting job for me.

"I worked on a farm, as a welder, in construction. I had it made when I took on a job as a busboy at the Park Plaza Hotel," he says.

The strain of those early years hasn't been erased from Kramreither's face. He remembers the hard times and how his family's support and encouragement brought him to where he is today.

"My wife and six children have been the most important things in my life. They've always come first.

"People told me to have children when I could afford them but we had them because we wanted them. I want my boys to be proud of the Kramreither name."

Kramreither managed to survive the early years of Canadian television and movies and was even offered a chance to go to Hollywood.

"I didn't go because I couldn't get a work permit because I wasn't born in Canada."


Greats


"At that time I was working with other greats, Lloyd Bochner, John Vernon, Margot Kidder and Gordon Pinsent who've all gone to make names for themselves in the States.

"Maybe it's a blessing. I probably would have been typecast playing German soldiers with my accent."

Instead, Kramreither dedicated his acting career to playing a series of characters in Canadian and German television shows.

His first major TV role was playing a rebellious priest in the 1960 production The Strong And Lonely alongside Bochner and John Drainie.

He went on to Wojeck, a Canadian Broadcasting Corp. drama series that ran for three years. He followed that with Quentin Durgens MP, Scarlett Hill, Forest Ranger, Seaway and Adventures In Rainbow Country.

With 50 TV appearances to his credit, Kramreither decided to take a big risk and start his own production company, Brightstar Films Productions in 1972.

But it wasn't until 1974 that Kramreither's name started registering at the box office with his feature film, Lions for Breakfast, starring Canadians Ian Rubes and Jim Henshaw. It won critical acclaim at the Cannes and Moscow film festivals and won the 1975 Etrog award for best original musical score for a feature film.

He succeeded with a string of B series, money-making films like A Sweeter Song, Giant Spider Invasion, Deadly Harvest, Mondo I and in 1980 came out with his semi-autobiographical film, All In Good Taste.

"Paramount was interested in seeing All In Good Taste but I was honest with them and told them it wasn't for them. It was a low-budget production geared for TV and home video audiences," he says.

"They thought I had spent $2 million to make it…at that priced I would have made 10 films."

Working with a shoe-string budget, Kramreither has learned how to stretch a dollar and he boasts he has never gone over-budget on his films.

"I hate it when distribution companies ask me the cost of my films because they tend to judge the worth of a film by its budget. In Hollywood they spend millions to make a movie that goes down the drain. My films always make money."

Some producers might call him foolish but the director doesn't mince words when he speaks about why he'd prefer to work in Toronto than down South.


Wants responsibility


"I've been approached twice by Hollywood to produce a movie but I'm not for hire. They just wouldn't give me the same control on a film that I have here.

"I want full responsibility for my work. If the film is good, the actors get credit ─ if it's bad, I'll take the blame."

Success at 60 hasn't changed Kramreither's lifestyle much. A loner by nature, he prefers to stay at home rather than mix with the movie crowd.

But since Dancing In The Dark, he admits to having come out of his shell to enjoy the fringe benefits that come with recognition.